5 Best In Ear Headphones Under $50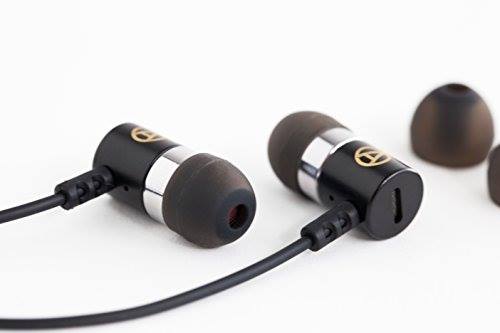 Buying a good quality earphone for yourself is not easy. It is not just the too many options that confuse the people but the increasing cost as well. Not everyone wants to spend more on buying the headphones as after sometime it becomes boring to use them and you look for other options. So why stick to one headphone and spend hundreds of dollars on it when you can work with the cheap one too. There is no point in wasting your money as you can get some options under $50 as well.
There are numerous aspects to consider when buying the headphone. Its sound quality should be great, design should be appealing, comfortable to wear and lots more. But rather than looking into all the features it will be decent if you pay attention to the important ones and then make your choice. More the features you look into any headphone higher will be the price. Thus it will be better to stick to the desired features and make your search accordingly. Keeping in mind all these aspects we have compiled a list best in ear headphones under 50 that you can buy for yourself. So let us get started.
ADV Sound M4 – The very first option that you can go for is the one from ADV sound. It is a branded company which designs affordable ranges of earphone for its customers thus you can easily pick one of their options. This model is designed using aluminium which adds to its durability. The plastic cable is something that will put an end to the portability issues. The cable will not get entangled and you can enjoy good music. It is two in one device through which you can attend calls and at the same time listen music as well. In all it is a decent device that you should grab for yourself. 
The price of the earphone is somewhat around $25 thus suiting to your budget.
Shure SE112 – GR – This is yet another great option with an in-line mic that you will not get in other earphones. Packed with super audio quality, this earphone is surely the right choice for you. In most of the devices the sound is not clear as you increase the sound volume it becomes worst but with this choice you can look forward to high sound effect without compromising with the quality. It is really stylish and you will love to wear them. The best part is the price which has been brought down just to let users buy them and enjoy a hassle-free experience. 
The price of this model is around $49 which is definitely suited to your budget and a fantastic choice as well.
Tao Tronics – Next you have the headphones from Tao Tronic which is said to have the noise cancellation feature. This means that you will be able to enjoy clear sound which is the first preference of the buyers. Also the headphone easily fits in your range despite having an additional feature. So what more can you expect. The brand is reputed and their options are also mind-blowing. It is a durable option with 140mAh battery that lasts for a longer time. You can use the earphones for long hours without any problem in your ear. The comfort level is superb which increases the popularity of this brand. If you are looking for something different try the Tao Tronics headphone which are better than the other options. 
The cost of these headphones is around 446 and this is what impresses the people. So if you find these earphones good, buy them for the finest experience.
Skull Candy Uproar – In the next choice you have the model from Skullcandy uproar. It is packed with wireless feature that allows you to connect devices to one another and listen to your favourite tracks. The best feature is their battery backup which is around 10 hours and you get in 7 different and appealing shades.so you can easily choose from the various colours. The sound is high and clear too, so you can look forward to a good sound effect. The different ranges are quite balanced which is another attractive feature that you will get here. If you are tired of your old headphones which are not doing well, switch to uproar which is certainly something you had been longing for. 
The price range of this model is just around $50 which best matches with your budget. If you buy online you may get some discount thus reducing the cost.
Ausdom wireless headphone – Another option in the wireless range is from the Ausdom. Their impression range of models will definitely catch your attention with high sound quality being their prime concern. The wireless feature comes with Bluetooth 4.0 and smooth cable for portability options. The 3D surround sound is another feature that you will be able to enjoy. Then is the battery life of the earphone which is around 20 hours that is quite satisfactory. You can listen to music for hours without worrying about the battery backup. You can take up calls at the same time with a single touch. The design is interesting and comfortable to use. 
The cost of the earphones is around $43 which makes it the best option you can ever get and that too with so many features in it.
These are the popular earphones that you can get in your budgeted range. To make the right choice you can check out the reviews as well and you will get an idea as which model is best for you. A comparison is quite helpful as you get to know about the products in detail thus giving you the answer to all your questions. Thus you can say that making proper research is necessary to make a decent choice. If you wish to make the most out of your investment you will have to gather information and then only indulge in any kind of purchase.
Hope you end up getting the best earphones in your budget.