How to replace your old stock Android Keyboard with New?
If you are still stuck on to your Keyboard that came loaded with your phone by default – Trust me, you are missing out on something big.
Fact: As per research, less than one percent of users switch from their default phone keyboards.
Most of us tend to forget, Keyboard is one prime app on our phone when it comes to getting our things done, playing a significant role in our mobile productivity. From editing documents, chatting with friends and family, sending emails and whatnot. And yet we easily settle with the one that came default.
Isn't it time for a change to make your typing experience pleasant?
As we shell out a considerable amount of energy and time on our phones typing, we deserve to be rewarded with the best of them available. There are plenty of extraordinary keyboard apps available on the Android Play Store that need to be tried, and I would recommend trying at least a few of the best keyboard apps to end up discovering something you like. When you do, start with this ultimate step by step guide to install, and use third-party keyboards apps on your Android phones.
For this walk-through, though, I will be installing the popular new entrant Bangla Keyboard With Bangla Stickers as an example, and the process of switching to any other keyboard is the same.
Installing the Keyboard from Play Store
Go to the Play Store and search for Bangla Keyboard With Bangla Stickers by typing it in the search options box. Select the application page, click install and once you have downloaded your chosen keyboard, follow the below steps to get going.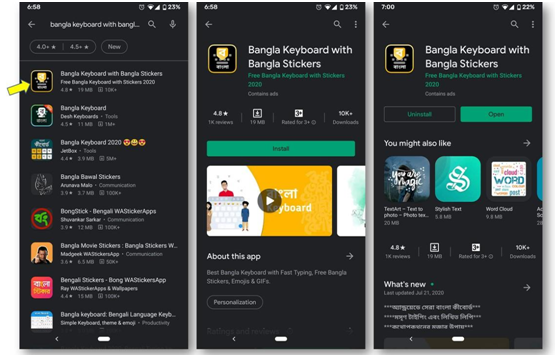 Setting up the Keyboard as your default.
Go to Settings on your phone.
Scroll down and tap the System.
Select Languages & Input
In the Language & input section, tap On-screen keyboard.
Select Manage Keyboards.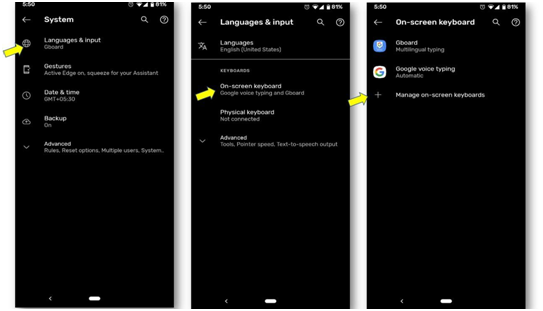 Note: These steps might slightly vary from device to device and depending on your Android OS.
Tap the toggle next to the Bangla Keyboard just downloaded.
Note: Android will display a warning pop-up letting you know that the app has the potential to collect all the information you type, including your personal data like passwords and credit card numbers, making sure you trust the keyboard before continuing.
Click Ok.
Open your Keyboard with any app (Whatsapp, Facebook, Gmail, or anything) that opens it.
Click on the keyboard-icon present on the bottom right corner of the screen.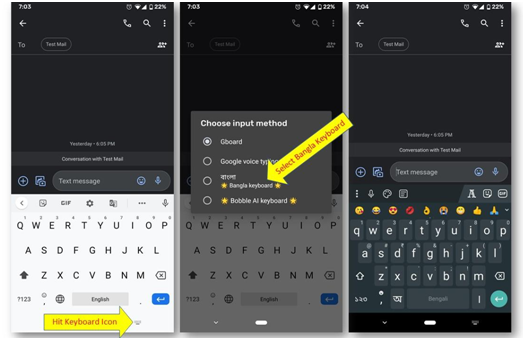 Select the Bangla Keyboard.
Start Typing😊
That's all it takes to get going.
Switching Keyboards
Now that you have your new keyboard installed, you can switch between keyboards as and when required rapidly. Although the process can get distinctive depending on what device you have, it is going to be simple, nevertheless.
Open the app you want to type in.
Once the keyboard is visible, click on the keyboard icon on the bottom right corner.
Reselect your old one or any other Keyboard you have downloaded.