Tag archives for film editing app
Video editing is a process that can take anywhere from a couple of hours to days, depending on the length and complexity of the video. For a 30-second video, the average editor needs about an hour to go through the footage and make cuts. This is assuming that there are no major changes that need ...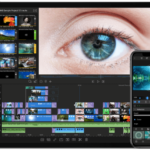 Film-making is a tricky art form. It pays off well if everything goes right, but disappoints if it doesn't. Film-making is a product of many disciplines, collectively contributing to bringing a story alive on the screen. But film-making cannot be attributed simply to cinematography, but video editing, photo editing, music mixing, and animation are also ...