What are the Secrets of Starting a Successful e-commerce Business in 2018
How you can Start a Successful e-commerce Business
In a couple of years, a drastic change has been seen in the global market. Now businesses are not only limited to the region but also they are on the verge of growing globally. Businesses are growing with technology development and they are getting advanced with technology. So many entrepreneurs have established a profitable e-commerce business.
It is a well-known fact that the E-commerce industry has grown fast. People enjoy shopping online as it saved lots of time and money. Around 70 % of online shoppers believe that they get good offers and deals online so they are tempted to shop online. Due to this people tends shop more online than in a local market.
All the businesses have the desire to expand the business all over the globe. For those who are willing to expand the business across the globe, but due to restrictions unable to expand it. Now with an e-commerce solution, any business can expand easily. For this, you need to develop an e-commerce website. There are so many website developers available in the market, you need to take out some time and need a little research to find the right developer.
Five secrets to run a successful e-commerce business in 2018 are as follows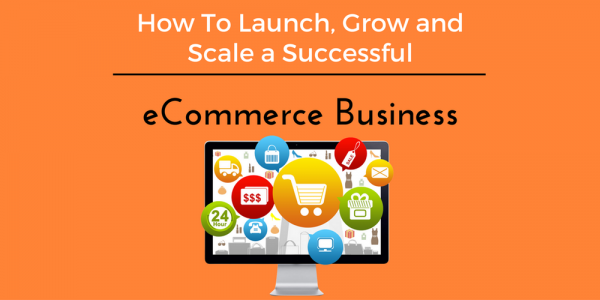 Treat e-commerce business normally
Running an online e-store is a very easy task as compared to the physical shop. Treat your e-commerce business just like the offline business. It is fun to start an online business store. For this, you don't need many staff or space. You just need a store to hold the stock and a manager. Everything is done in the software. Everything is automated.
Take the example of Amazon, when we buy anything on Amazon website, we get automated emails, notification, etc. Similarly, all inventories are maintained in the software and all transaction details and reports are prepared automatically. All you need to update your website and do some digital marketing. No much stress everything is at your fingertip.
E-commerce software
The website software should be secured and reliable. The software is the key element if it does not work perfectly your business might suffer potential customers. The first thing you should consider the features of e-commerce platform while developing the website. Some of the factors like mobile responsiveness, security, usability, scalability and other important facts need to be considered.
The poor performance of the e-commerce software will ruin your business. You need to be very careful while creating the e-commerce website.  It has to be SEO friendly and all the marketing tools and techniques have to be done to get the desired success. Startups generally hire a digital marketing company to promote their business.
Identify the customer base
It is important to know your target customers, which is the important part of marketing. Whether you are running an offline or an online business, you need to identify the customer base.  Promoting your business in the right way is the key strategy. Suppose that you are into the business of selling sports shoes than your target customer will be sports people, health fitness people etc.
This way you will not end up wasting money and efforts. It is important to target the customer base and promote as per the business requirement. Instead of doing mass marketing, customer base marketing will increase the customer.
Make your customer brand ambassador
Why are e-commerce businesses successful? It is because of the fact that they treat their customer as a brand ambassador for the product. Allow customer to share feedbacks, reviews, testimonials etc. This way your customer feels special and customer relationship become strong. They promote your brand through word of mouth.
You can also provide some offers like cash back on referring a new customer. The customer feels emotionally attached to the company. You need to serve the entire customer on priority and provide good customer support. Customers are the assets of the company and allow them to share their own views and try to improve if there is any negative review. Appreciate the customer feedback.
Simple checkout process
Customer spends a lot of time on your website while selecting the list of products to be purchased and if the checkout process is complex, they might never buy from you again. Try to simplify the checkout process instead of having multiple pages of checkout, have a single checkout page. Ask only important details to process the checkout. E trailers need to understand the customer and make the shopping experience easy for them. They should enjoy shopping at your website.
Avoid friction during the checkout process.
If you would like to sell many products, then you need to make sure that your visitors aren't getting frustrated, forgo their carts and skipping your website in order to check out another store where they may buy a competitor product.
Anyone can grow his/her business by employing right business strategies for e-commerce. Details for auckland best carpet cleaning and wellington top preperty cleaning click here.